While the ol' timers covered every square inch with bugger all technology, there is no way modern technology of metal detectors has covered it all. With detectors, we have eyes that can detect gold below the surface that the ol timers couldnt see and given the vast areas where gold has shed, our chances of finding gold is very, very good as long as we are in the right areas.
But what you find equates to the hours put in. So make the time brothers and enjoy it out in the bush, which is a really good experience on its own, apart from finding gold.
The other day I came across a little bird in the outback Murchison that had a irridencent breast of the brightest red I have ever seen that extended up to its neck. I just dropped my detector and watched it and thought this is as good as finding a nugget of gold. It was a much brighter red than the robin red breasts of southern WA but I expect was of the robin family.
The different shades of green as well of the different types of trees always fascinate me, especially those in the outback where their trucks look totally grey and dead, yet they somehow have green branches and flowers!!
But nothing interests me as much as white quartz mixed with black black stones and red tomato sauce jasper (salt, pepper & tomato sauce) and I know I am in gold nugget bearing country.
Just love prospecting in the bush and appreciating the beautiful Australian bush and wildlife....and finding that precious metal gold that the ol' timers missed.
you can have all the tomato sauce in the world but there are just some places you just can't find a pie when you want one.

but then again Cue newsagents usually have them stashed behind the counter.
you are right there JR there are nature moments that are onesies, like detecting in flat areas only to walk around a quartz blow and see an eagle just gorking at ya 20m away. makes you wonder would it have a nest so low and then you look around and realise it is the highest point.
_________________
Good diggings

Nice thoughts John, couldn't have put it better mate.
This little bloke made me put the gear down and walk 200 mtrs back for the camera, gees he was cute and as friendly as a bartender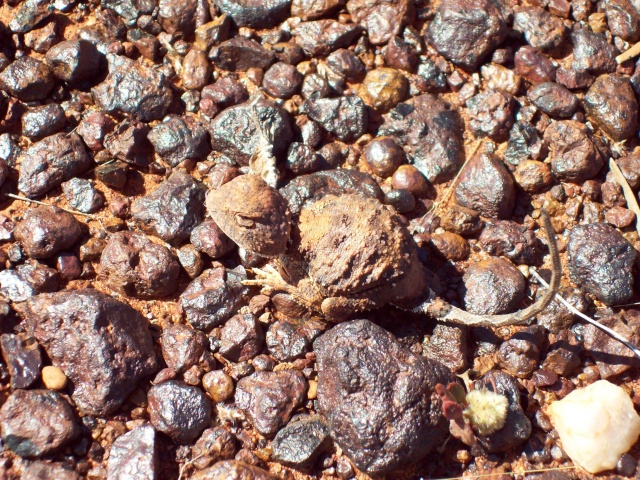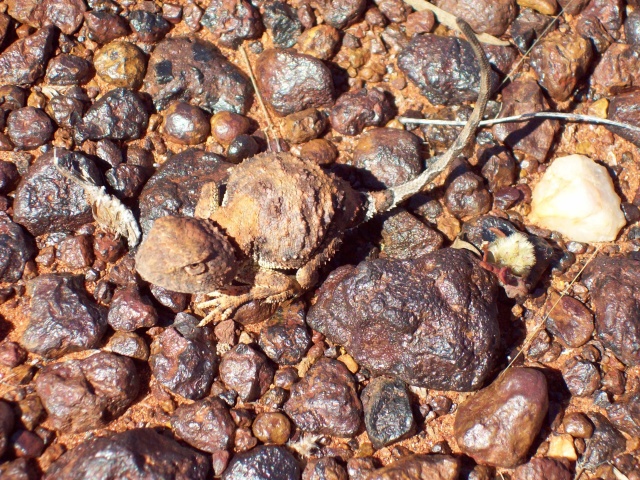 Too many people head out thinking i'm gonna make a good quid on this trip and miss the best reason to be there, the gold will find you if ya minds in the right place to begin with.
Pete
Ya buggers, now ya got me drooling out the sides of me mouth

there's nothin better than being in the scrub. It's the serenity.
Away from the bloody rat race. No traffic, no bloody phones ringing all day and no one asking me the same question over and over and over again.
If ya find a bit (gold that is

), it's a bonus.
And I always get a chico roll first roadhouse I find when we get outa the scrub
Might have to get a pie next time, I think they are deep frying the chico's in CRC or WD40 now, they taste like C**p




Cliff

_________________
Life is what you make it, always has been, always will be.

Bignuggs

Forum Admin





CRC



And there's no way i can walk past a greasy old beef n cheese snagger from the bay marie..
Doesnt it feel good hittin town after a few weeks out and f##k me there's food, real food, pies, chiko's, chups,

And a crapper ya dont have to squat over

Love the way the local birds eye ya up in the servo "Been out on the gold have yaz" ...........they know
GOLD comes in many forms

Thanks for the great comments fellas.
I have seen a few of those little stoney creatures in the bush. They are so well camouflaged that if you take your eye off them, they are hard to find again.
Never ceases to amaze me Mother Nature, while we walk around on this ball floating in space.
And to have the privilege of being in the beautiful Australian bush as free as a bird, with good friends around a campfire at night with steaks on the grill & a red or beer in your hand, and to top it off, finding gold... well life doesn't get much better than that I reckon.

Well we got back home today after 4 months away, Ora Banda, Menzies, Duketon, Linden, Sandstone, Meekatharra and Ora Banda again. What a great time we had, just weren,t looking forward to coming home as life is so good out there. Saw the brilliant coloured Red capped Robins, those cute little Pebble lizards, Hawks that nest on the ground, one lonely Camel and met some great people, also found some yellow stuff (not as much as hoped for but still happy) got spoilt as we found 2 ounces in the first week but it got a lot harder after that. Anyway LIFE IS GOOD.
Chris

shorty





Welcome home Chris, sounds like yous had a great 4 months out mate.

Pete
Went out detecting after work today for an hour before dark and got three nugs. One was shaped just like a fish hook .8g's. SWEEEEET
Hey Johnno, leave some for us mate Haha!

---
Permissions in this forum:
You
cannot
reply to topics in this forum