Hi All,
We found these old bottles on our recent trip to Kalgoorlie, they are mostly green bottles with concave bottoms. Does anyone know what they are - Beer, Wine bottles? There were some smaller bottles as well some green and clear glass.
Were in Kal for a week did heaps of driving, some swinging but only found trash.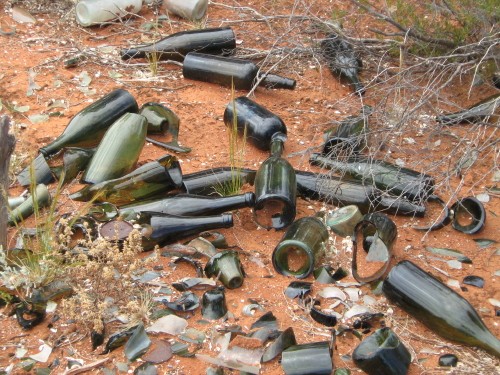 Cheers Kev

Biggest Kev





:study: The ones with the concave bottoms are for wine.

They must have partied hardy.
You will usually find an abundance of old wine bottles on Australian goldfields, as water was hard to come by and the wine was already in the bottles

You find these bottles all over the eastern goldfields but ya also gotta remember, where ever a town sprung up, the towns also had breweries so they could also be beer bottles.
And a good indication of a good strike is if you find a pile of oyster shells with the bottles.

_________________
Life is what you make it, always has been, always will be.

Bignuggs

Forum Admin





Lot of the old blokes had to water their horses on champagne and beer, they had plenty of gold but no water to spare.

years ago i was in far s/w qld in boulder opal country, about 12,00klm from the coast,(channel country) and where i was workin had an old open cut, then continuing into an adit opal mine on it, these guys also must have partied hard, champagne bottles and oyster shells littered the dump not far from the mine, got over 60 nice pieces of boulder opal between 3 of us from a boulder we prised out of the wall in a drive , the main drive went into the hill some 400 mtrs or so and they had a railway built into it to take the mullock out, the opal we got was pretty good so god knmows what the original miners got back just after the war (2nd version)

---
Permissions in this forum:
You
cannot
reply to topics in this forum