Hi to all those of the prospector fold.
Some many months ago whilst talking to the forum guru the idea was floated in regard to a section on the forum where good people could post up pictures of "gold bearing ground" and if one so desired to put a short rap about what one looked for in the quest for paying ground.
Now I realize that nobody wants to "give up their patch" so the thought was to post up close up type pictures of said quality ground, the idea as to assist newbs in understanding where and what to look for.
I feel this has as much bearing on success as to having the equipment set up correctly. All the gear and no idea is possibly where a lot of new starters are at.
Having the good fortune to have met at worked with prospectors from other states I am sometimes surprised at comments passed like the guy who spends most of his ground time in WA….
"I can't believe you have found gold in this ground, in WA we wouldn't give this a second look!"
Or from my old mate from FNQ….. "Phill, this is what the old timers called Billy-rock and it was one of the indicators they looked out for." (Just quietly this guy is a demon at finding good ground and even better at identifying duffer ground)
Most people are aware that quartz is an indicator but what type of quartz are we looking for, is this quartz really an indicator to gold bearing ground?
So where do we look for gold? One of my first reactions to this comment is understanding where NOT to look is just as important! We can't afford to throw effort into foolishness for too long as the enthusiasm will soon wear off and we'll go back to fishing instead.
Some thoughts I personally go with when I'm studying ground, (and I'm no expert by any means!)……..
Has the area got a solid history of gold finds? If so find where the old workings are, get out of the vehicle and look around, ask questions if not to anyone else then ask yourself, where were they looking? Once identified look around the fringes of old workings, I try to keep at least almost within sight of old worked ground but often try to keep out of the thick of it.
Think about where others may have already been over, flogged ground is usually flogged and can be very hard, disappointing work. Now think about where the others may NOT have been, physical barriers that would stop the average weekend hobbyist are a blessing to me, topography and scrub are two of the obvious ones!
Now let's look at the ground at our feet, what's it like? Push the leaf litter and overburden away with your foot, any good? No? Well what's it like underneath? Get the pick out and dig yourself a test hole to see what it's like underneath, clean soil that looks good for growing your vegetables' in probably won't cut the mustard for finding gold. On the other hand is it gravelly stuff? Are there any signs of river worn gravel's? Is there any quartz in there? If so, what's the quartz like? Is it barren or is it mineralized? Is it smooth or angular, or is there a mixture of all? What's the colour and the size of it like? What's the soil like in there and what are the other rock types? Any ironstone or shale? What about clay, especially pipe clay?
Some good information can be picked up just by being observant while driving along, any road cutting, dam or earthworks can disclose some clues about what's going on in area, vegetation often can help as an indicator, and Ironbarks love mineralized soil where gold enjoys hanging out!
Anyway let's look at some examples from the East…..
Classic X river wash....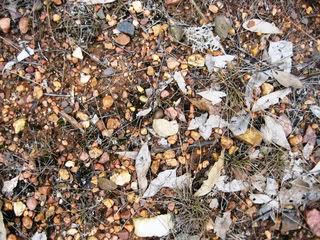 Barren quartz ground...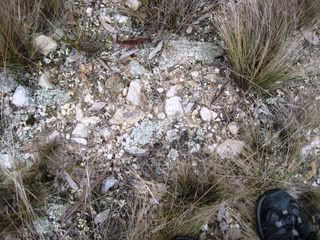 What's it like under....
Ladybeetle indicator....
And one of my personal favorites....
Hope this helps
Have a cool Yule!!

:santa:
Phill

phill





Excellent post phill, good onya cobber


Crazy Pete :.8:
Great post and great pics

I have found that since taking up prospecting iam constaly examining the ground looking for any clues it will give me, not a geolagist by any way shape or means but iam getting there ...slowly

As indicators go i know we all keep an eye out for quartz and say ironstone but i have been told that jasper can be a good indicator as it allways seems to be found around gold fields, though by itself has nothing to do with gold iam guessing


Shivan





Phill, that was bloody excellent. Reminds me of an area I think was an ancient river bed where the slope had rocks that looked like washed and rounded river stone and I know some excellent specimen stones came out of it.
X marks the spot, would love to share but I think I'll keep it to myself for now.

_________________
Life is what you make it, always has been, always will be.

Bignuggs

Forum Management





Hi Phill
I am a North Queenslander, I am am still trying to narrow down the more productive ground, I have had a little luck but no big patches, I have decided to do much the same as the old timers did that is sample the gullies to find out if I am in gold bearing area's for a start ( there are old diggings in the area ) Sometimes I struggle as all the ground looks good, I would love to get out in the field with someone who really knows how to read the ground,

quote "Or from my old mate from FNQ….. "Phill, this is what the old timers called Billy-rock and it was one of the indicators they looked out for." (Just quietly this guy is a demon at finding good ground and even better at identifying duffer ground)". Do you think your mate would be up for showing someone who is very keen, a thing or 2.

If you never ask you never know.
cheers
Lee
ps Gold addiction has got me good



rc62burke





Hi Lee,
As I say I reckon the ability to understand ground is just as important as having your gear tuned to the optimum and using it correctly.
To get on to someone with a hoast of knowledge should be on every newbies list of what they need to do. I've found about everyone I've met in the field to be happy to share a bit of info and swap ideas, don't be frightened to say hello and introduce yourself to others you may see out there, just don't jump in thier possy!
Old Don from FNQ was one of these top blokes who welcomed about anyone to his camp. When I met him he had "ran away from home"....... about 5 years ago! Still wrote to and called his mrs. when he could..... argh what a life ay!.....
I've been tryin' ta call him, but I fancy he has done the runner again as it's been over a year now since we last chatted..... I miss the old bugger!
But yep, If ya ever bump into him he would take ya under his wing for sure, and if ya want my advice, listen ta every bloody word he says!
Gold addiction........ buckle up buddy, theres no brakes on this ride!
All the best yule stuff ta All :santa:

Phill

phill





I will post up some piccies of the ground i like in QLD...
Some fellas love the red high min ground. I love the dried pipeclay and white powder wash that sets like concrete over the top of traprock.
Anywhere theres thin wash over broken vertical slate is my fav haunt. I also love the wash up the bank a little, when you can read the old river layers in it.. If its breakable conglomerate and hasnt set to stone, i love crushing that stuff up to pan or sluice..
You can see the top of the trap rock on the left hand side, when i get to the grey muck/ clay, i get happy...
In the far right is the old creek bed, we are hitting that tomorrow.
Got about a gram from the hole in the pic in every layer it seemed to be, but the rougher stuff was deeper on the rock, and in the gaps..
This is on the ground we are testing for the gold ranch...

Makaw





Maka, good tips for the sluicers amongst us. Ya look luvly in the wellies but ya bra strap is showin darlin

:santa:
And get a haircut


:santa:

_________________
Life is what you make it, always has been, always will be.

Bignuggs

Forum Management





Love the wellies !! Good solution for sluicing, especially when theres the odd joe blake in the grass.. Just gotta order the thigh highs. They are way hotter with my fishnets..

Gota run guys, see ya all in a week or so with some piccies, and hopefully a car full of yella..
P.S its raining here, but my motto is..Gold doesnt rust and nor do i..... Should be some water in the creeks atleast if its too wet to detect..
Merry xmas to all.
pps, If anyone bought me a 5000 for xmas, pls txt me and i will give you the secret location to drop it off. Or jam it in santas sack, he knows i have been a good boy this year...


Makaw





Makaw, did send you a 5000 for xmas but i heard that the auspost truck is was on burnt to the ground in NSW, oh well maybe next year..............

delapan





heres a vid of a good looking spot that has produced, not for me though


Flying kiwi





---
Permissions in this forum:
You
cannot
reply to topics in this forum