Well ... they told me the GPX 5000 and the NF 11x7 was great at finding small stuff too
and 2 inches down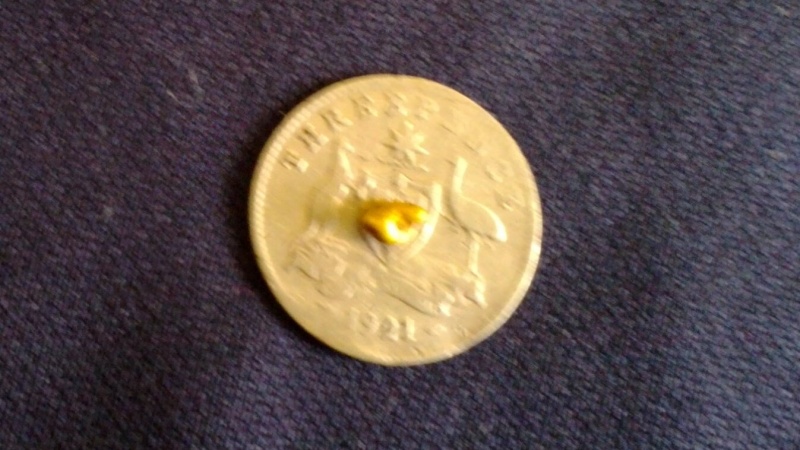 don't have my scales yet... and I am not sure that would help-

Well one things for sure you definitely know your 5000 is working.Nice coin as well.

K town.
Last edited by K town swinger on Fri 15 Feb 2013, 1:09 pm; edited 3 times in total
Yeah,
I was so close the 1921-2 overstamp is worth 55K
$1.29 for that one

Congrats Whatsa, your first piece will live long in your memories now your hooked, enjoy.


Cheers Kev

Biggest Kev





Well done Whatsa, now go and find number 2 nugget

Stu

snapper





the first one is the hardest -- well done mate--enjoy the rest..

regards
oneday
Attaboy Whatsa.
Future $ value of gold...???
Future value of the Trey...$54998.71 to go
Robert
LOL thanks for thats guys,

It was funny and cool - so I had to share it.

But the cool factor of the first find - well you cannot put a price on that one...

Hopefully soon I will have some "post virginity" finds to share
Owen
good skills there whatsa , my first was a 3 gramma using an sd 2000 @ 2 inches with an 11 inch dd & wasnt much of a sound really, im yet to use a 5000 ,you wont miss a big one if you can catch those mate, albo

albo





nice one bud now you have your wings it will be all go.

_________________
Do not go where the path may lead,
Go instead where there is no path and leave a trail.

Flying kiwi





good start.. lets hope its big brother is there for you also

Nosralt





I'm hoping for one of its " pagan Gods"


---
Permissions in this forum:
You
cannot
reply to topics in this forum