its been a very hard slog this year but I haven't finished just yet..
just short of 5 ozs and a 3 gramer on the right
this was the first 4 and half ozs which took me the best part of nearly 3 months..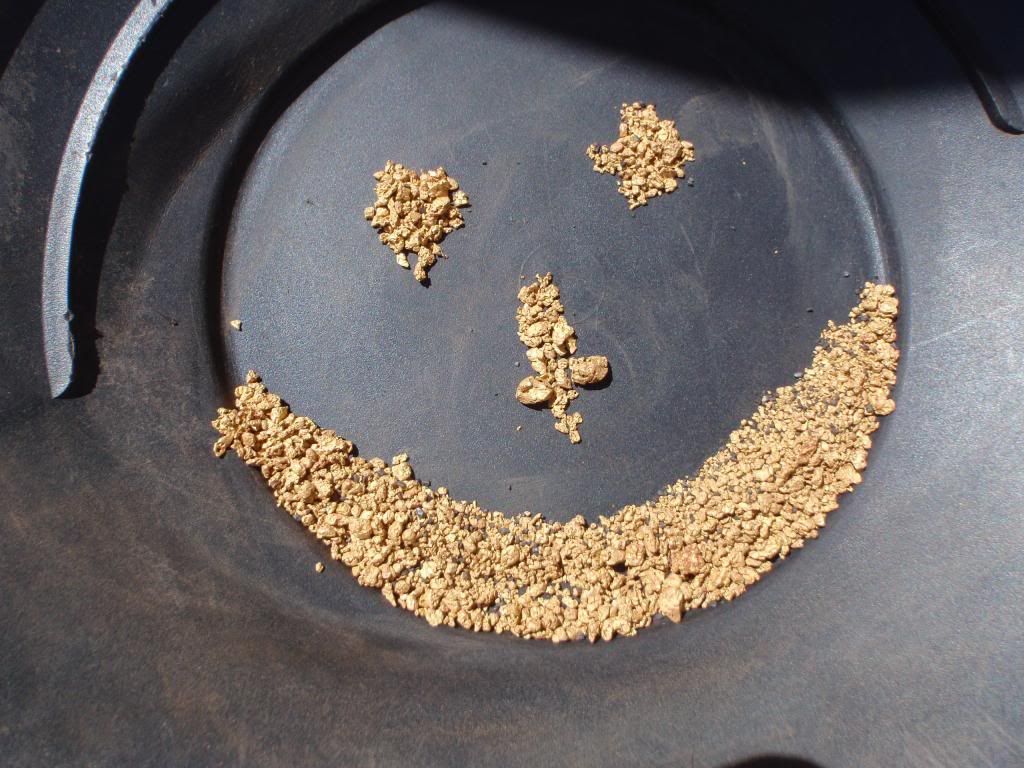 regards
oneday
nice one ray how much dirt do you think you have run all up for that lot?

_________________
Do not go where the path may lead,
Go instead where there is no path and leave a trail.

Flying kiwi





Hi Ray
Very nice mate, looks like your doing okay & once you have all the issues worked out with your rig & reinforced you will have more consistent runs.
cheers
Lee

rc62burke





we moved a bit of dirt but processed about 150 tons out of our allocation of 500.

this has been a hard slog but I was up to the challenge although very frustrating at the best of times..

regards
oneday
Thanks for the latest Ray , hopefully the dirt is getting dryer to dryblow for ya ... should be, its 43 deg out here today already ,only November , crikey hows jan/ feb gonna be . 50deg & beyond this year by the looks . anyhows its MELB cup day & its the last thing im excited about

 albo.

albo





47c in the shade in the bush--but hopefully will cool down soon and as u say albo its only Nov..

regards
oneday
nice colour in your bowl ray. better than nothing for 150 tonnes, as said, now you have just about ironed out the wrinkles you should get a good run from now on improving the returns, heck i done 40 days this year with only 14g to show. im happy with my tally for the season and look forward to better each year. I couldnt take that heat but... 47 in the shade, thats for the Bungarra's.

_________________
keep safe out there
Martin

martinjsto

Forum Admin





Well done oneday. Looks like nice chunky gold, good for jewellery. Is there much fines amongst it or is it all reasonably coarse?

Cheers
stingray
Well done ray any gold is good gold
Cheers bluedog
Got to be happy with that,and it's only the tip of the ice berg .

badboybilly





hi guys
yep theres a lot of small gold and a fair amount of fines.

had a few around the gram with one going 3 grams..

we currently have 2 piles on the go some 20 feet between them one is good the other is very poor but it still has gold in it..

I am happy now that I have finally got the machine workin properly with a new 13hp motor to boot..

last night done 4 hours for only 5.2grams as I said 20 feet makes a world of difference

regards
oneday
Good to see you have the machinery running ok and finding some nice colour, (see on another later post tractor water pump probs, bugger:.7:  ) hopefully after that's fixed you can get a good mechanical break down free run and some good gold for your effort.
Good luck.
Salty

salt-d






---
Permissions in this forum:
You
cannot
reply to topics in this forum