posting this for John, finding some nice bits there buddy but need a coin for size comparison.
cheers
Martin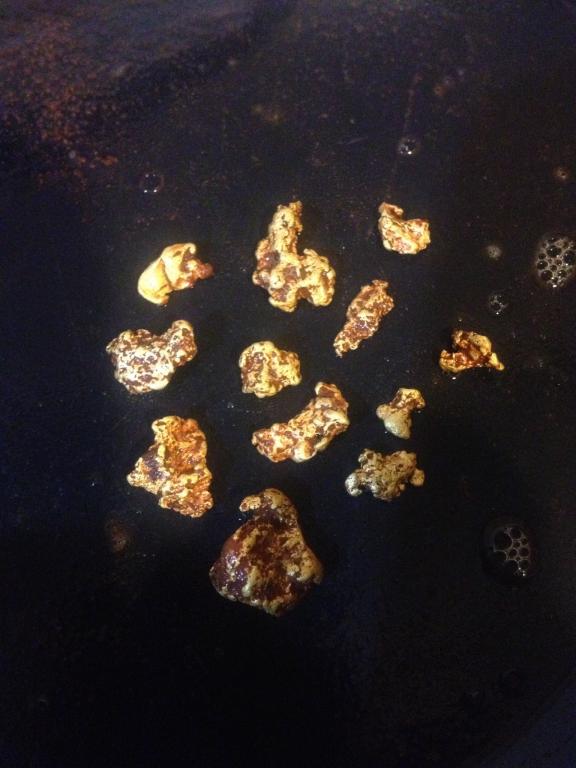 _________________
keep safe out there
Martin

martinjsto

Forum Admin





Hey john nice find mate now go get some more

  bluedog
Well done John, bit of a soak in ALI-BRITE will clean em up spic, and make sure they soak in a plastic container and not glass.

snapper





Better done in hydrochloric acid. Alibrite is used mainly for quartz. 

Robert
Looks like they just have a bit of red dirt still stuck on them but yep, could be ironstone, either way he will need Ali-brite to bring em back up nice and shiny after the hydrocholic.

snapper





Does Alibrite affect a glass container?
Hydrofluoric acid dissolves quartz. quartz = glass.



_________________
Good luck & safe travels
Peter
"Aging seems to be the only available way to live a long life."


Nightjar





This is why Ali-brite comes in plastic containers.  


snapper





Thanks boys for the replies.
Woops !! took mine out of the glass jar today, hehe, been soakin in alibrite, doesn't seem to have done any harm though. got a small tail of gold in the pan left after the rinse now just gotta work out how to save it from there.
RW

rogawilco





With the fine gold left in the pan, I use a sniffer bottle to suck it up then pour it into those small glass bottles then pour out as much water as possible, then sit it in some sunshine with the lid off and let it dry.
Careful where you put it to dry as you don't want the dog or kids or even you knocking it over.  

snapper






---
Permissions in this forum:
You
cannot
reply to topics in this forum