Hi Guys,
Many thanks for the support for the past year and in particular, Forum Management, especially in posting these pictures.
We have been very lucky this year in Cue and Meekatharra.  Picture attached.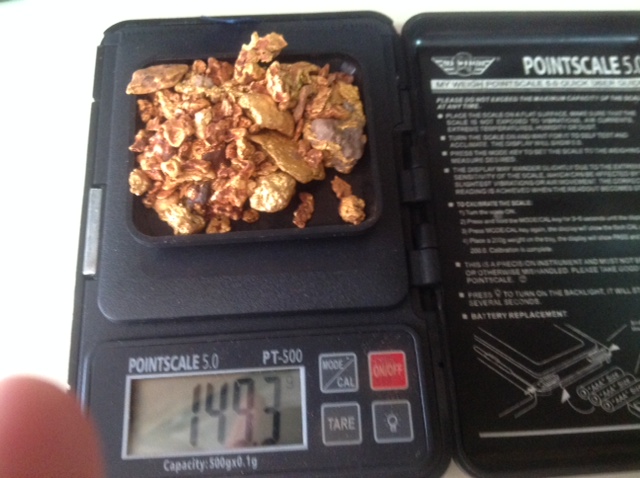 After we left Cue end of June, we venture to Marble Bar, no luck, then tried Halls Creek, no luck, even ventured out to where Doug Stone advised in his book, "Metal Detecting for Gold & Relics in Australia".  It turned out there was a big sign as you drive in which stated it was leased to ABCORP and gave a lease number and mobile number.  We called the number and arranged to pay the $15/person/day at the end of the day which is what ABCORP charge.  We ventured to the Ruby Queen Mine and the Blue Mine.  We decided to prospect on the Ruby Queen Mine area.  Lasted two hours, it was so hard to prospect out there and we decided you would need a month to get to know the area very well before picking a spot.   A couple of guys, one from Tassie and one from NSW were prospecting on the other side of the track but warned us that the NSW guy had a 40E on it and the original leasee was very protective.  They were definitely finding gold but thought, why bother having an argument on this.
We are going to pick some areas of WA for next year and put a 40E on it.  Much easier than looking over your shoulder all the time and being unaware of who leases what.
We are currently in Mt Isa but will travel to Winton and Birdsville and we think if time permits, venture to Laverton and to some old places hubby used to prospect in.
Any advice is as always very much appreciated from members on where to venture to whilst we are travelling.
Cheers and good prospecting for the future.
Joan & Bob
hi Joan and Bob
Just because 1 person has a 40e doesn't mean u cant get one either for the same piece of ground.

If its a E lease and its pending then open slather.

u need to brush up on WA laws..

that way one will hang shite on yah

regards
oneday
Very nice bits of gold ya got there, and don't let anybody tell ya where ya can and can't go as long as the law is onya side, and its always handy to have your own little bit of security  

snapper





Thanks guys, really do appreciate all your advice and will definitely look into the WA laws regarding protecting. Should have mentioned that all those small pieces of gold where found by Bob by going out each day walking extremely slowly with his 5000 inch by inch basically and always came back with a gram or two. It took us over three months to accumulate the gold but worth it. Cheers Joan & Bob

Three months of living the dream, nice.  


picknshovel





Nice haul, Joan & Bob!!. 
_________________
Annie 
Thanks every one, let's hope we all continue to find gold. Joan
Awesome post guys and lovely gold, hope to catch up some time in the great outdoors
Happy hunting
Steve, Lea and Buddy

madmav






---
Permissions in this forum:
You
cannot
reply to topics in this forum