I recently travelled to Western Creek Station near Georgetown and found some gold.  It was mostly 'leaf' gold that I had not seen or found before.  The lighter gold I has been cleaned and the darker coloured gold was found from one patch (16 grams).
Some others who travelled there early when the property were quite successful but others have had slim finds.
[You must be registered and logged in to see this link.]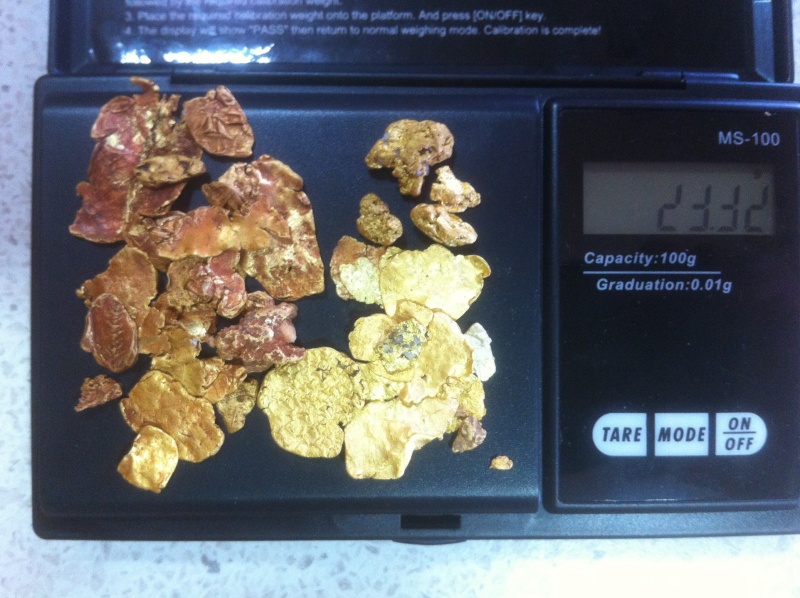 Last edited by Bignuggs on Wed 27 Aug 2014, 11:26 am; edited 2 times in total (Reason for editing : add stuff)
_________________
Annie 
Hey Annie
Well done, great to see you again, looks like you had a bit of luck, nothing like to first crew




See you there next year we will have some secrets to let you in on.

rc62burke





Great work, weird lookin gold that's for sure

snapper





Nice collection there Annie

Certainly is different looking gold

I was up that way last year & found a leafy piece at flat creek

Thanks for sharing the pics

Good luck on your next hunt & safe travels

Anthony

Ttrash





Thanks for your comments guys!!

Yes, Lee, looking forward to going back there next year when I 'head north for the winter'.  LOL!!  Look forward to the secrets!

Annie
_________________
Annie 
Nice gold there.
We had a couple of weeks at Dells Hole and did OK.
Would have gone to Western Cr but the 'fever' was in
full force.
The Georgetown gold certainly has a different character to
what we are used to. We got a couple of bits I've seen the
Americans call shevron gold. Like herring bone.
Would put a PIC up but no right click on my tablet.
Lovely country up there and we fell in love with the cattle.
Spent one whole day just watching them!
Certainly different looking gold, nice finds there Annie, might have to head up that way next year, less traveling to there than WA from south east Qld.
Cheers
salt-d

salt-d





nice goin AnnieL.

certainly looks different.

regards
oneday

---
Permissions in this forum:
You
cannot
reply to topics in this forum