Not exactly expected. One very strange find in a W.A. town of approx. 50 out in the middle of nowhere. Saw the tin which caught my attention so pulled it out of the stump/termite nest. It had a lid on so threw it on the ground and hit it with my pick putting a hole in it. Saw what I thought was tea until I smelled it and had to laugh at that point.
Gave it to a couple of the guys in the group who told me they would dispose of it in an environmentally friendly manner. The mind boggles as to how or why it was there. It had obviously been in the stump for a number of years. Would have to be the strangest prospecting find of all time. Cowboy Hooch.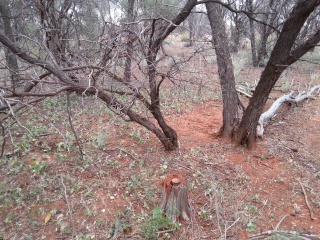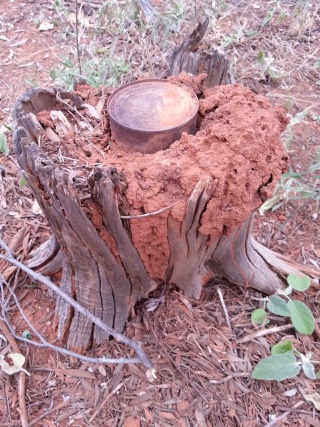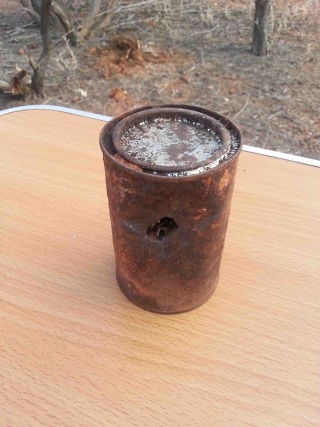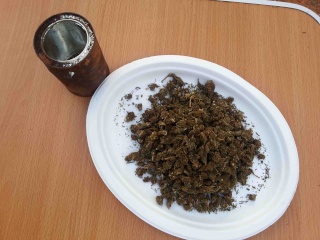 just what u need around a camp fire --more smoke only this stuff has a fragrance of sandlewood...

Good one.

regards
oneday
What a way to join the ounce club
some poor bugger lost there stash
must be good if he forgot where he put it
it would be dry and nasty if it is old, not that I'm a expert on this stuff
love it bloody classic

_________________
get out there and get it

aussie18





an oz is worth about $350 so its a good find, bugger for the poor fellow that lost it. cant just pop down to the local around the corner for a refill.
it looks quite brown from age but would probably be still good. the THC-A (the cannabinoid found in raw Cannabis) breaks down into THC (the active Psychedelic component in Cannabis) as it drys out over time or with heat so kept dry and pest free it could last for years and still be very strong (they found some in a ancient egypt soficus dating over 6000 yrs old and still had viable seeds). best thing to do with it is to not smoke it but soak it in warm olive oil or coconut oil for a few hrs and use as a skin ointment or eat the oil for all soughts of ailments. research it.  




_________________
keep safe out there
Martin

martinjsto

Forum Admin





sounds like u have done all the research Martin..remind me just to bring a packet of rollies for you when we go bush.


regards
oneday
martinjsto wrote: it looks quite brown from age but would probably be still good.
Not brown at all just my bad photography. Was quite green and not overly dry. It was jammed tight into the tin and I had to get a knife to assist with removal. It would have been impossible to get anymore in. As the tin was upside down in the stump that probably stopped any moisture contamination seeping in around the lid. Was it placed upside down intentionally? Who knows. The fact it was packed so tightly would have reduced air contamination. The tin was thin from rust so the white ants would have had a great time if I didn't come along first. Definitely one for the books. It was never weighed but estimated at approx. 4oz. by those that took possession.
koeh wrote:What a way to join the ounce club
I have been prospecting for about 15years so definitely not my first time in the ounce club.
yep only needed a pin prick and the white ants would of had a field day. worth about an oz of gold then, even more out bush where $500 to $600 per oz isn't unusual (thanks to the governments self interest to maintain prices by its illegality) . I haven't bought any in years so it could be even more now. nothing wrong with having a chuff with your buddies, were all made out to be dumb thieving druggies by ongoing gov propaganda and generational brainwashing based on racism and lies and big corporations like oil and the pharmaceuticals demands. whatever, each to their own, most people in Australia are changing their minds now with the recent publicity about Dan Haslem and other sick kids getting huge relief from their ailments from Cannabis. 96% of people asked want medical Cannabis available in all forms in WA. from a recent poll.
 i like the "herbal remedy" approach Ray,
 im not a big piss drinker and hate the hangovers. what ever floats your boat is fine with me unless it starts to hurts someone. you never see a one punch death or any violence with pot smokers do ya.

_________________
keep safe out there
Martin

martinjsto

Forum Admin





What is the worst you could do ?? Eat a whole cake


_________________
Jackthehound

Jackthehound





Well goldfinder1, me thinks you could change ur name to Mullfinder1,
and sends some o that stuff to our beloved host, sharing is caring remember.
Sure hope its not the Generals, he wont be happy.
Bignutts wrote

"Yep, I got plenty of free time at the mo and feeling a little bored  
I wonder what I'll do tomorrow."
Sure to Light up your day Cliff.

Was in a cab in Sydney one night and over the 2way came another drivers voice sayin,
"I got some fella in the back smokin some happy backy, what should i do?"
"Be my guest" was another drivers answer.



A few of us comin home part p*ssed one night in a Sydney cab(when sydney cabs were drivin by Strailns)
someone asked the cabby if he knew where we could score some weed.
"No, don't know" was the reply.
We were all havin a good time anyway.
When we gets to where we were goin and pay for the fair, he gives us some change,
..and a nice fat joint.
Thanks Cabby, a good night had by all.






picknshovel






---
Permissions in this forum:
You
cannot
reply to topics in this forum