High twenties to low 30's in sunny Dongara so we get to tangle with a bit of 9kg silver. Toss up whether detecting or this is better

. Nup, I'd rather be tectin.
cheers
Brett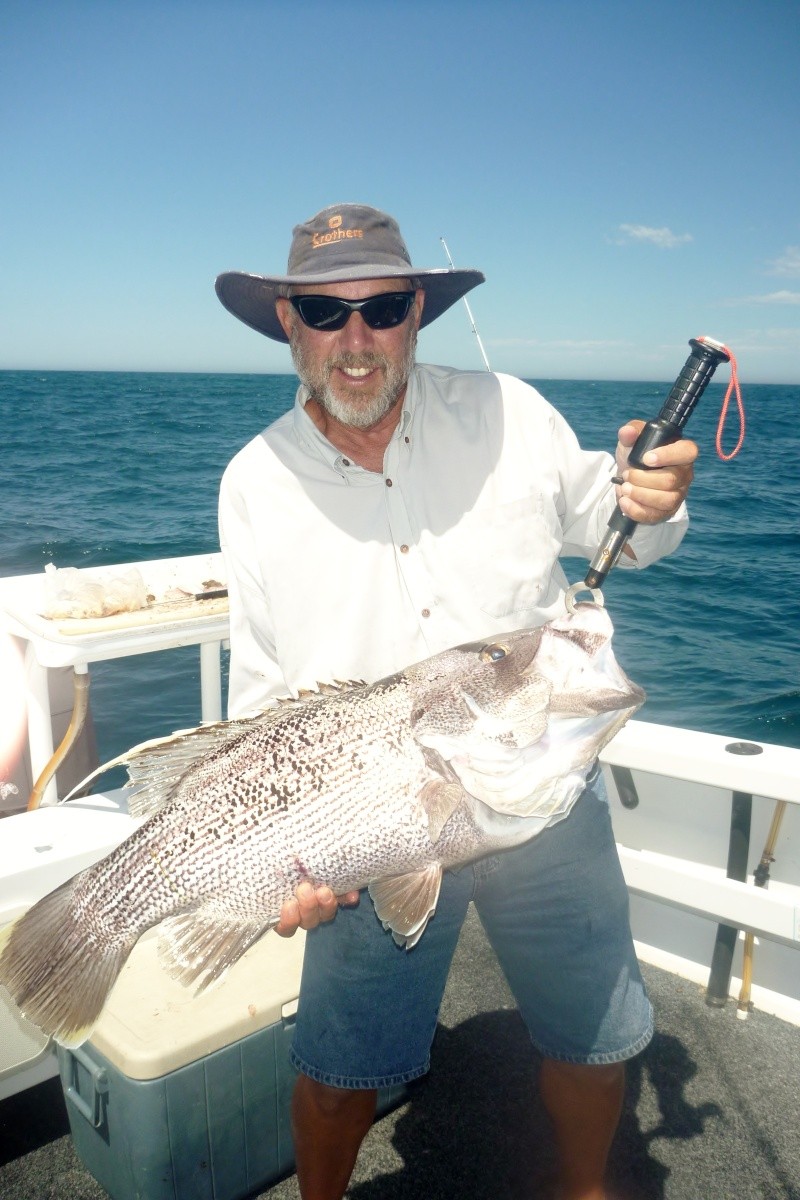 mulgadansa





Yeah right  

 on the ocean.  bugger that, get inland with the heat    

If we aren't careful, we'll get more pics of Ray out in his boat again after crabs and he says he's scratching enuff now  
scratching what I'm now sure and I didn't ask    

_________________
Life is what you make it, always has been, always will be.

Bignuggs

Forum Admin





Hi Brett,

That's what it's all about,tectin in the winter and fishin in the summer months

We are chasin crabs at the moment, half hour drive to Mandurah six runs for our 20 crabs and bolt home before the heat of the day sets in

4 crabs /meal x 5 meals and do it all over again

Nice Dhufish by the way

I was going to say you can't eat gold but apparently you can, missus reading Meekatharra the end of the earth and a bloke had his appendix operated on and it had traces of gold in it

Apparently he was mixin his coffee cup up with his tailings cup and it was blocking off his appendix...go figger

Ron
nice Dhu'y brett, I havnt had one for a while now mainly because i haven't been out in a boat for a few yrs, good eating size as well. they give a good fight till you get them off the bottom but you gotta be on the bottom to catch them. where you get Dhu fish is usually good ground for king george, i always drop down a hook size and see whats there. gees we have it hard in WA

_________________
keep safe out there
Martin

martinjsto

Forum Admin





Nice one Brett!

We've been doing pretty well up there using lures for Dhuies. Great fun and no sh*tfish. And Martin - they go hard all the way to the top when you get them in shallow water!

By the way, I know of at least 2 Cobia caught up there a couple of weeks ago - off the beach!

Cheers
Stingray
Thanks guys. Yeh, pretty lucky living here. Get out chasing dhu's about once a week. Great golf club too.
Ron, I'd swap the dhuey for those blues any day.
cheers
Brett
_________________
you can live to be a hundred if you give up all the things that make you want to live to be a hundred


mulgadansa





Nice Fish Mate
I got two on the opening day of the season with a mate

_________________
Next Step Could Be GOLD

Peaky





nice couple of dhu's peaky, if i didnt know better i would say your in the northern suburbs, maybe burns beach or mindarie way, i am sure i have seen you and the boat heading out some early mornings at the boat launch, I think I recognise the thongs


_________________
keep safe out there
Martin

martinjsto

Forum Admin





They're tasty little buggers eh Peaky

cheers
Brett
_________________
you can live to be a hundred if you give up all the things that make you want to live to be a hundred


mulgadansa





Yep off Two Rocks

Can't beat a good feed of fresh fish

Peaky

_________________
Next Step Could Be GOLD

Peaky






---
Permissions in this forum:
You
cannot
reply to topics in this forum