OK lets start something a bit different, there must be some great stories out there.
3 Questions:
Where did you find your first Nugget?
How big was it?
How long did it take you to find it?

I'll start the ball Errr, Nugget rolling.
I found my first bit just out of Leonora about 1979 give or take. It was when the Allan Bond Rabbit Warren thing was in full swing on Nambi Road. You couldn't get into the North side of the road because it was all fenced in and guarded.
It was a 2.7 Grammer, and the first time I used my new super dooper digital scales.
I was on my 2nd trip, and found it about 100 meters south of the Rabbit Warren gate.
OK there must be some much more dramatic stories out there.
If anybody wants to check it out, the best I can do is with Google Earth.
28°48' 48.76" S ............121°24'08.47" E Will put you in the paddock.


Young Simmo





Like half the prospectors in WA I found my first bit at Cue -wasnt more than about 3 grams but I looked at it and polished it for about a month-just about wore the poor thing out-now I have boxes full of them but still have the first-will never lose that-kinda like losing your virginity I spose for those of us young enough to remember-Dragon

purple-dragon





Met a couple (Bill & Nancy from Mandurah) sitting in the Top Pub in Meekatharra back in about '83. They invited me to join them at Chesterfield where Nancy had pulled a 10 ozer out of a wash adjacent to the southern most mine.
Bill gave me a 2.5g nugget so I would know what I was looking for, still carry "lucky nugget" with me to this day.
They introduced me to chaining in a circle, and still do the same.
Swinging my Garrett Deepseeker my first gold was an ironstone specie that held 40g of AU. Only two circles later I found a pure white quartz specie with 10g of gold poking out.
My regrets I took the species into work and dropped them in hydrofluoric, the end result was a just a jar of scraps.
Returned to Chesterfield some years later with a dryblower and went home exhausted from shovelling with 180g of fine gold.





_________________
Good luck & safe travels
Peter
"Aging seems to be the only available way to live a long life."


Nightjar





we went out the bush to a mates lease, never really tried detecting before they had a loader and after a few pushes they pulled out a 10 oz specie. pretty much been hooked since then
our first nugget was a massive .7 gr found it on our youngest's 21st birthday (she was overseas at the time)
oddly enough it is shaped like a beer bottle, of which a few were had


got my first after 4 days of hard yakka searching some thick scrub out leinster way. a nice specie with 4.5g in it. i still have the nugget but had it in acid for a few years and all the quartz has gone.
cheers

_________________
keep safe out there
Martin

martinjsto

Forum Admin





I first met Tom (Flying Kiwi) back in 2012 Tom took me to a few spots north of Mt Maggot, we had just arrived at a pushed gravel pit and about 15 metres away from my car I got my first nugget a 3 gramer with my GP3000, sold the nugget but still got the memory.
Cheers Kev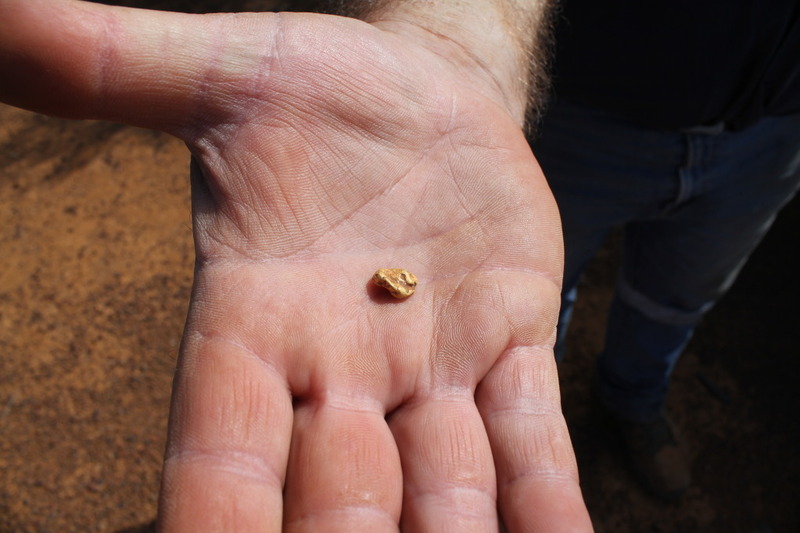 Biggest Kev





Yep i was 400 & something on the list for the 2000 , the day finally came when i put it together & headed off one arvo after work in mt magnet telling every barmaid in town thisl be my salvation , no work for me yeeha. Mm after 2 weeks i got a 3 grammer , but what joy it was & i became a believer. Steadily bit by bit , longer trips here n there i did chuck in the job & had 4 great years touring non stop every posible goldfield. But too much of a good thing can spool also.

albo





Ps young simmo that 3 grammer was at the 1000 oz patch out of magnet & if your the simmo i think it was one of your mates that took me there & got me going , cheers, by the way old trout in sandstone passed away i heard.

albo





I'll send you a PM albo, so we can sort it out.

Young Simmo





That was my uncle trout from sandstone he passed a year ago, his brother George was my grandad he passed a few years back and just this year my uncle Glynn fogarty passed too. I decided to use money left by my grandad to get back into prospecting. Just being out there brings back the memories of those passed and the good times we had out bush. I was supposed to be left with my grandad sd2200 but I didn't thanks to my uncle who will never use it anyway

_________________
https://www.youtube.com/channel/UCMeMMo6itTGfuO5IHtdp_Wg

shane-o





Shane-o , iv got to tell you i had quite a few hours at the bar with old trout in both sandstone & meekatharra at horries pub esp when he did the odd trip over & he was good humorous company to be with , cheers mate.

albo





We bought the ATX and had it shipped to Broome just before the Niagara muster two years ago. We dropped into the Nickol River salt flats on our way south and met Ktown Swinger there with his 5000 digging up tiny nuggets. He swung his coil over a 0.2g bit that the ATX didn't want to know about. Sandra dug it and Darren let us take it home. It was tiny but we treasured it just the same.
We found a 0.8g at the muster that year and went on to find a 35g bit in the two weeks following. Heading home with 44g all made it look a lot easier than it really is...


_________________
Phil & Sandra

Moneybox






---
Permissions in this forum:
You
cannot
reply to topics in this forum