Hi everyone

I'm giving serious thought to adding a quad bike to my list of prospecting tools, and was wondering who on here is using one?

If you use one, what make/model/size etc is yours and why did you buy the one you've got?

With a budget of up to $2500, the options I have are either a second hand Japanese model or a new Chinese model, so I'm looking for any comments/recommendations please.

Thanks in advance.

regards
Rusty...
Main question...why do you want a bike?
Each to their own Rusty, much prefer walking, kicking the rocks gives you a better idea about the ground you are passing through. We joke about it now how we used to bush bash in our vehicles or on our motorbikes, we would see promising ground look and ride on, to comfortable I suppose sitting on your butt.
One tried and proven method of checking an area.
Leave your vehicle, walk off on a compass bearing (Yes compass, before days of GPS) walk for an hour, swing around 120°, walk for another hour, swing around another 120° and this would take you back to your vehicle.
On one of these "emu bobs" years ago using the then new SD2000, I got a positive signal, looked around and saw the remains of a very old campfire. Immediate thought was "rubbish" but as we mostly say, "dig everything!" Got down into the quartzy rubble and was by now a little excited. Had reason, out popped a 350g quartz/gold specimen. (Later proven 53g AU) Took note of the area land marks, returned next day and 6 hours of gridding only returned another 2.5g. Such is our hobby. :-)



_________________
Good luck & safe travels
Peter
"Aging seems to be the only available way to live a long life."

Hi Tony
You are an early bird.....what you doing up at 3.57am??

Re, your question 'why do I want a bike'.....I'm not keen to take my car too far off the main tracks, so I walk, which I don't mind, or I leave the car at camp and I look for another way of getting around.

Probably not so much needing a quad to get around on my lease, but rather to explore the surrounding area.

Hi Peter
I know what you're saying....walking and kicking rocks could teach me a thing or two about where to find the yellow stuff, as this is an area I need help with.
As for 'dig everything', I certainly agree. The downside is when you come across an old camp and every step you take finds a 'target'....but mainly old bits of tin, nails, wire, etc.

A 350gm specie would be an exciting find.

A guy I know was relating a story to me about a deep target that turned out to be the hub of an old wagon wheel...not much gold in that one, though.

regards
Rusty...
I bought a 90cc Honda this year but just because Sandra has limited mobility and carrying anything over a distance is difficult. I prefer to walk with the coil to the soil but the quad is handy when returning to camp late and tired. I chose this one because it's light weight so easy to handle and Honda for reliability.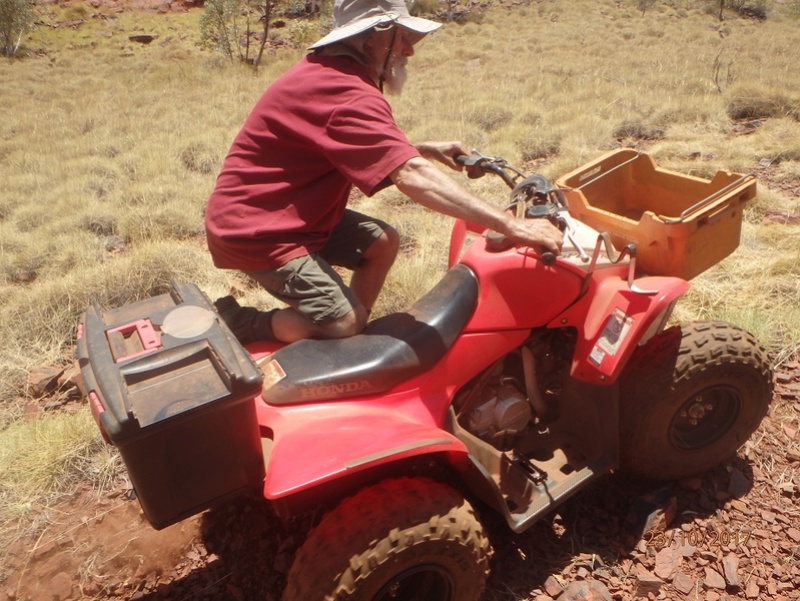 It's more often loaded with rocks and bottles rather than gold


_________________
Phil & Sandra

Moneybox





Hi Rusty,

Still working about 80k's East of Leonora at the moment...so early starts are a smart way to go...it gets light by 4.30am and we try to be working dirt soon after that. In reality though..Lisa is battling to get me moving.

I hate quad bikes because I have spent a bit of time on them. I hate them because you need to be walking and detecting...it's easy to ride over 'great looking ground' as Peter said. I hate them because you will need different fuel (usually), a way of getting them around....fixing their useless bloody tyres....spend hours cleaning carby's out and the list goes on.

Having said all that...now that I'm getting older I love them!!...I don't want to walk as far as I used to plus..they are good fun.
Depending on the rest of your set up...if you really need an exploration vehicle...maybe consider something like a sierra on a trailer??? A bit bigger than a quad but more versatile. If your stuck in town for example at least a zook can be road legal and you can drive it in and out of town. The other advantage is you can carry all your crap with you and the best advantage is that it gives you somewhere to get out of the wind etc. Quads can be great if you want to drag a coil around...but then your set up changes again.

My advice for what it's worth, seeing how your new to it all, is save your money for now, put some time in and trips away etc and you'll soon work out what set up works well for you. Then you'll know what to do.
if you just want a "site vehicle" for your lease then buy a cheap runner in kal and leave it at your lease a 2wd will go most places as long as its not raining, you can carry all your gear around and will provide shade and if the A/C still works even better

ps tried quads you dont get much gear on them and the tyres are a weak point

Thanks everyone for your thoughts and comments.
I agree with you Tony, that as I'm new to all this, learning the basics first, is something I need to concentrate on. I don't mind walking, so I'm happy to get a few more trips under my belt before committing money to a 'site vehicle'.
I tow a camper trailer, so a quad would have to go on the A frame...or in the back of my Navara....but the Nav is usually packed with 'stuff', so the A frame is the obvious location, albeit with some 'engineering adjustments' to make sure it's safe to transport it there.
Will be up on site again in the New Year, so I'll get my fair share of 'exercise'

regards
Rusty...
Spent many years on foot and never bothered with a bike or quad, several years ago I relented after getting lost and walking for about 5 hours I decided It would be safer to have some wheels, the first thing I tried was a posty bike and while it was a great way to get around it had its limitations and also the ever present worry of coming a cropper, but if your vehicle breaks down you always have the option of being able to ride into town, used to go for miles on it and found some great spots that I would not have gotten to on foot or without bush bashing with the car.

Went to a quad bike after that and love it and can carry all the gear I need, detectors, spare coils etc, water and so on, you can cover a much greater area than you can on foot and when you are finished detecting and you want to head back to camp just jump on and off you go, one thing I found is that its easier to camp up and use a quad to scour an area than it is to break camp and move after you have covered as much as you can on foot so it has the advantage of just making life easier for you when you get older as well.

au-fever
love my quad, if going out more than one day I take it with me, have the galaxy note with maps set up on the front in a plastic container, extra water, jacket and a few lollies in another container on the back, 7000 sits along the side off me.

Gim

gim





I have a quad (Polaris) that I take bush. I upgraded from a chinese quad that was rough as guts to ride The first time out with the Polaris it got 6 punctures (like whats been said above "useless tyres"). I fixed the problem by getting/installing "run flat tyres" they are 12ply. They cost around $1,200 for the set of 4. I don't have a puncture problem anymore.
---
Permissions in this forum:
You
cannot
reply to topics in this forum